Boohoo lessons for ESG investing
The accusations of modern-day slavery against fast fashion retailer Boohoo have not only railed its share price but also sent shockwaves through the ESG investing world. There were several ESG funds that were invested in the stock and one fund that claimed to pay particular attention to labour conditions even had Boohoo as largest holding in its fund.
How can something like that happen?
Well, if you look at the average ESG rating of Boohoo vs. its closest peers ASOS and Zalando, then it seemed as if Boohoo wasn't such a bad investment. Measured against a universe of more than 19,000 stocks worldwide, Boohoo was better than 71% of them. Both its peers were slightly better, but essentially all three stocks were in the top third in terms of ESG ratings.
Average ESG score for online fashion retailers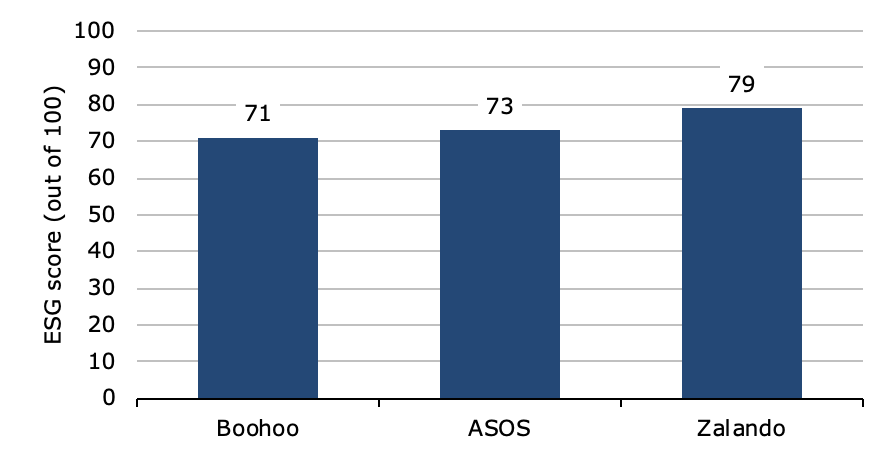 Source: CSRHub
Investors who only looked at the ratings or the ESG data the companies disclosed could easily believe that Boohoo was a pretty good investment from an ESG perspective. But that overlooks a major problem with ESG investing. Because there is no unified standard of disclosure, every company is free to choose which metric it wants to publish. 
ESG disclosure is costly for companies (it takes both time and money to collect, analyse and publish the data) and in particular smaller companies often don't have the resources to disclose as much information as their larger peers. ESG investors and ESG rating agencies obviously want as much information as they can get, but they have to make do with what companies are willing to publish. And, in order not to unfairly penalise smaller companies, they often calculate their ratings or make their investment decisions based on the available data and simply ignore the missing data.
But that opens up the possibility for companies to game the system. If you have something to hide, you can simply choose to disclose only favourable information about your company. This way, you look much better to ESG investors and it may be even possible to look better than companies that are following better practices overall but disclose more information about their business.
In other words, there is important information for investors is the lack of information. The Fashion Transparency Indexengages with more than 200 fashion brands around the world and checks how much they disclose. Note that they don't judge if a company has good or bad practices, they only judge how transparent a company is. And if we compare Boohoo to ASOS and Zalando it is obvious that it disclosed much less information than its peers in every category that the Fashion Transparency Index uses. A particularly important red flag is that in the area of traceability, Boohoo scored zero points. They provided absolutely no information to investors and consumers where they buy their clothes or source their raw materials. And of course, that is exactly where the scandal was.
Transparency of online fashion retailers by area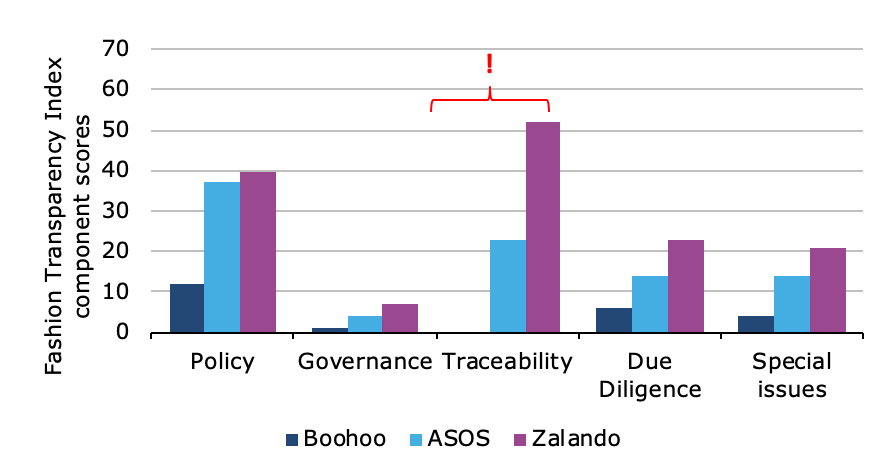 Source: Fashion Transparency Index
Now, I am not claiming that Boohoo's management knowingly covered up the scandal and systematically withheld vital information about the working conditions in its suppliers' factories. That is for the ongoing investigations to determine. But what is clear is that Boohoo could have been flagged as a potentially risky investment from an ESG perspective by looking at how much the company disclosed. It is high time that ESG investors pay more attention to disclosures than they did in the past. Otherwise, they will continue to fall into the same trap.