Global weirding
As the average temperature of our planet rises, people tend to forget that this does not just lead to a smooth increase in temperature throughout the year. If that were the case, all our winters would become milder and all our summers hotter. And while that may be on average, it is certainly not the case every year. In fact, what happens with global warming is that the atmosphere is charged with more energy and as a result, weather becomes more unstable and volatile as this energy is released in local weather events. Thus, climate change leads to more extreme weather events and higher temperature volatility throughout the year. In fact, instead of global warming, we should have called it global weirding since the weather gets weirder and weirder as volatility increases and extreme weather events occur more frequently.
The chart below shows the 5-year rolling average of the temperature volatility in the UK within a year together with the number of extreme weather events. Since the year 2000, the temperature volatility in the UK has increased from 0.5 degrees centigrade to about 0.7 degrees centigrade and the average number of extreme weather events has risen from five to six per year. The chart also shows that the correlation between extreme weather events and temperature volatility has risen since the 1950 when global warming accelerated.
Temperature volatility and extreme weather events in the UK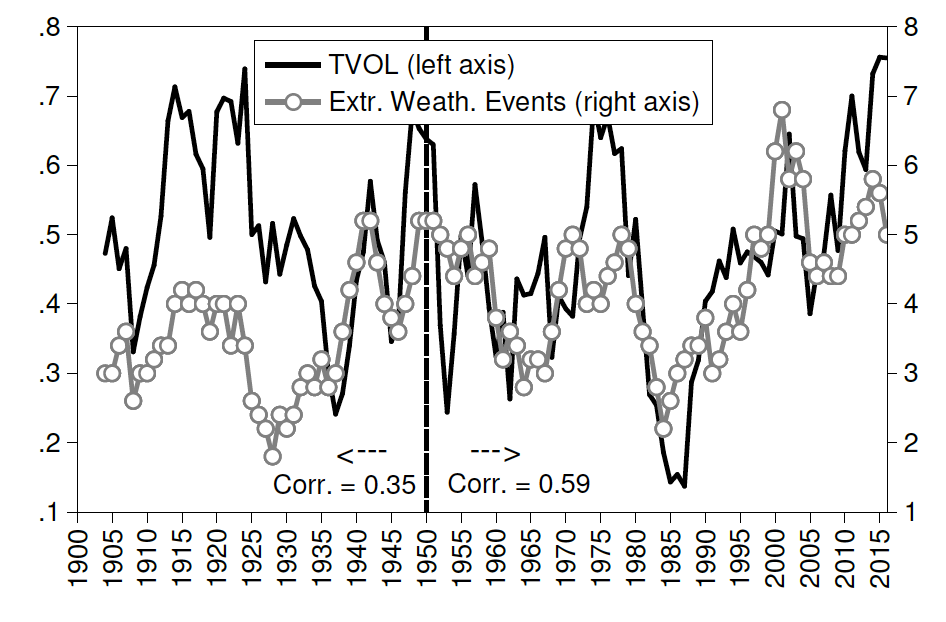 Source: Donadelli et al. (2019).
Michael Donadelli and his colleagues have tried to measure the impact this rise in temperature volatility has on the UK economy and they found, rather unsurprisingly, that rising temperature volatility leads to lower productivity in the UK economy and thus lower GDP growth. This could be expected since more volatile temperatures and more frequent extreme weather events mean blocked trains, delayed shipments and a lacklustre consumer who simply doesn't feel like going grocery shopping when his living room is flooded. Brits are such wimps…
The interesting part is that the impact of this rising temperature volatility can already be felt in stock markets. The chart below shows the estimated reaction of UK stock market returns to a one standard deviation increase in temperature volatility (which is roughly what we have witnessed between 2010 and 2015). Such an increase in temperature volatility depresses UK stock market returns by about 8% and it takes until year two to three to catch up with this shock. In fact, researchers find that temperature volatility is a risk factor that demands a significant risk premium in both UK and European stock markets. For the UK, they estimate the temperature volatility premium to be around 0.65% and for European stocks around 0.37%. And that means that as temperature volatility increases, stock market valuations should decline.
Reaction of UK stock market returns to a shock in temperature volatility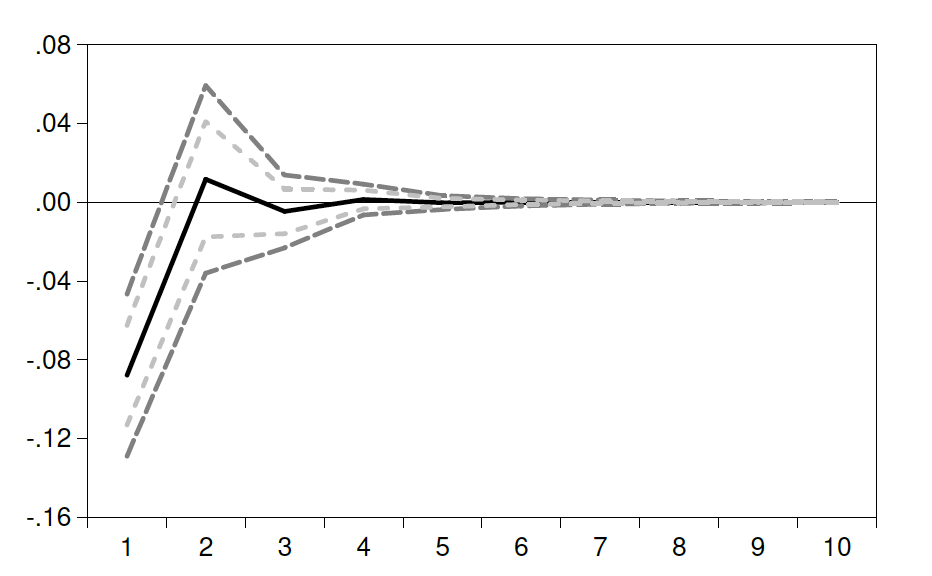 Source: Donadelli et al. (2019). Note: Black line = median; Dotted black lines = 90% confidence interval, Dotted grey lines = 68% confidence interval.