An old investment adage says you should cut your losses and let your winners run. Unfortunately, this is exactly the opposite of what our instincts tell us. The disposition effect describes our tendency to realise gains and let losers run because locking in profits gives us a boost of confidence and bragging rights forever. On the other hand, we are so loss-averse that we want to avoid losses for as long as possible, so we stick to the investment that has lost money, hoping (usually in vain) for them to recover.
However, does anyone know how easy or hard it is to pick a winning stock? We know that stock markets outperform bonds and bills by a wide margin in the long run.
Given this large outperformance of stocks vs. bonds and bills, how many individual stocks outperformed short-term Treasury bills?
If you randomly selected a stock from all the stocks in a market, how likely would it be you picked a winner in the sense of beating the Treasury Bill return in the long run?
A couple of years ago, Hendrik Bessembinder set out to answer this question first for the US market, then for global stocks. The answer may surprise you. 
Percentage of stocks that outperform US T-Bills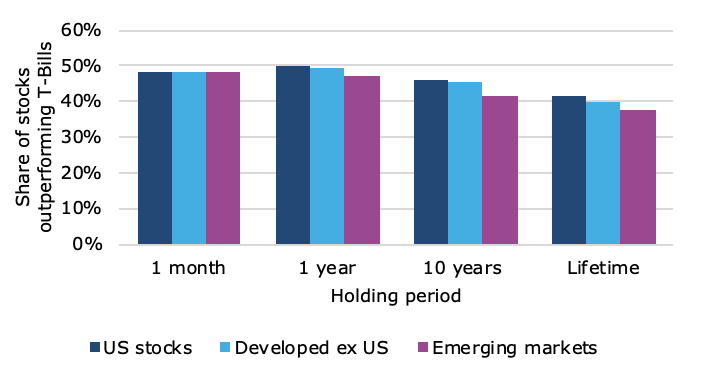 Source: Bessembinder et al. (2019).
Less than half the stocks in any given market outperform the T-Bill and the longer the holding period, the fewer stocks manage to outperform. This is a reflection of the increase in skewness of compound returns I talked about last week. As your investment horizon grows, more and more stocks will experience severe crashes, and many will eventually go to zero. So, performance is concentrated in fewer and fewer winners over time.
Hence, if you are a long-term investor, this study should tell you two things:
Diversification is key because if you hold a more broadly diversified portfolio of stocks, it becomes more likely that one or more of the stocks in your portfolio are winners that make up for the losses in the other stocks.

If you are a stock picker and you found a winner, resist the temptation to sell it. The odds that your next pick will be a winner are worse than a flip of a coin. So, please, let your winners run, cut your losses and use that money to pick another stock. And once you picked another winner, let that one run as well and so on.