Discover more from Klement on Investing
Thoughts on financial markets by a grumpy, middle-aged German. What more do you want?
Over 10,000 subscribers
The crisis that didn't hit the middle class
One of the eternal truths of financial crises and recessions is that it hits the working class the most, then the middle class and the richest 10% or so are hit the least. This is so because the working class tend to lose their jobs in a recession or a crisis and since they tend to have much fewer savings than the middle class, they immediately face a massive decline in their financial circumstances. Middle-class families tend to have most of their wealth in their homes and hence, declining house prices tend to hurt them more than working-class or rich households.
The chart below shows the impact of a 10% drop in house prices on the wealth of a household in the United States in 2007 and 2016 (the most recent data we have). The financial crisis of 2008 was triggered by a housing market crash which led to house prices dropping far more than 10% in most areas of the United States. Hence, far more than 33% of middle-income households will have seen their wealth decline by 10% or more. Of course, for working-class households in the bottom 50% by income, the house price decline just exacerbated their loss of income from unemployment. 
Impact of a 10% house price decline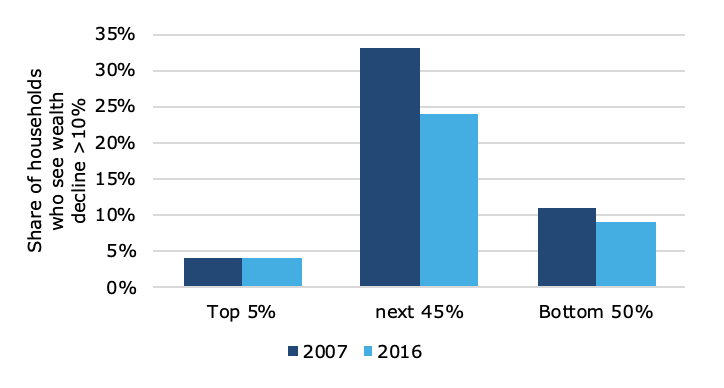 Source: Bricker et al. (2020).
What is different this time is that house prices so far have been stable. What we have seen so far is a massive spike in unemployment which mostly hit workers in the leisure and other service sectors. Most of them will be part of the bottom 50% working in jobs that pay minimum wage or a little more. The other group that will be hit hard this time around is likely the top 5%. After all, their wealth is mostly concentrated in equity investments and business interests. With stock markets declining and house prices stable, the top 5% of households by income are likely to suffer more than the middle class so far. What is more, many businesses, as well as private equity investments, are probably on the verge of bankruptcy now (more so than during the financial crisis 2008). These business interests are concentrated in the top 5% of household portfolios, so they will likely have suffered more so far than the middle class. Of course, that may all change if the current crisis triggers a decline in house prices later in the year, but so far, it seems that the middle class for once has not been squeezed by a crisis. 
Impact of a 10% stock market decline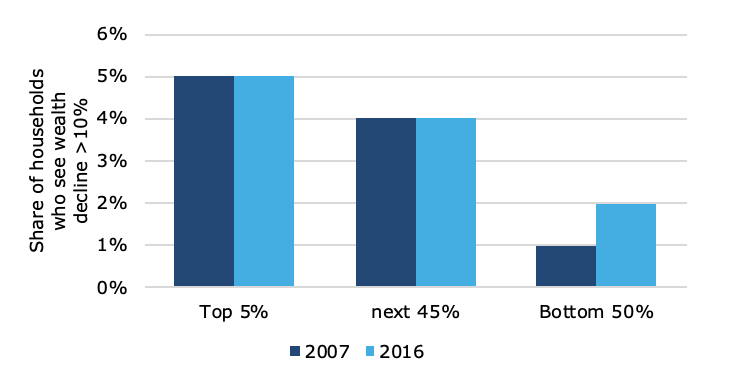 Source: Bricker et al. (2020).