Too much of a good thing
In the United States as well as in an increasing number of European countries, tax-aware investment strategies are increasingly popular with private investors. The idea is simple. Reduce the capital gains tax due by carefully managing portfolio turnover and the selection of stocks that are being sold. Ideally, try to sell stocks held at a loss while letting your winners run (tax-loss harvesting). The benefits of such tax-aware strategies can be dramatic. A team of analysts from AQR Capital Management, the hedge fund behemoth, has looked at 66 quantitative strategies and their tax implications for private investors in the United States. They found that by managing these strategies in a tax-aware fashion, after-tax returns can be boosted by 1% per year, on average.
The advantage of tax-aware strategies for private investors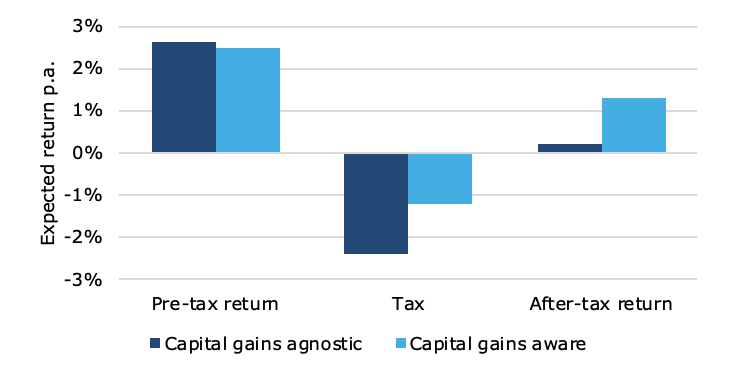 Source: Israel et al. (2019).
However, as the saying goes, too much of a good thing can be bad for you. I have come across many private clients in my career that have become so obsessed with not paying taxes, that they are willing to forego significant returns. We used to joke that they are willing to pay two Dollars to save one dollar in taxes. In Switzerland, where I spent most of my career in wealth management, I have seen investors avoid investing in foreign assets altogether because they incur stamp duty of 0.15% vs. 0.075% on domestic assets. Clearly, the reduction in diversification more than outweighs the saved taxes of 0.075%, but there was no convincing them.
Most prominently private investors who are reluctant to pay taxes, tend to shun high yielding stocks and bonds. Since dividend income is typically taxed at the income tax rate while capital gains are taxed at a lower rate or not at all (as in the case of Switzerland), high-dividend stocks tend to incur a higher tax burden.
So, what better than to avoid high-income stocks in a portfolio and save additional taxes. The AQR study has now shown clearly, how costly such dividend avoidance can be. They looked at the after-tax returns of the 66 strategies managed in a capital gains tax-aware and a capital gains tax agnostic fashion and then added an aversion to dividends to it. For a dividend avoidance parameter of 0, the investor does not care about dividends and their tax implications at all. For rising levels of dividend avoidance, higher-yielding stocks are increasingly excluded from the portfolio to the point where at dividend avoidance 100 the dividend yield of the investment portfolio has been reduced by about 1.5 percentage points. Their results show clearly that excluding high-yielding stocks for a portfolio immediately leads to a decline in after-tax returns (mostly due to the reduction in diversification). If one excludes only a few of the highest-yielding stocks in the universe, a capital gains tax-aware strategy can make up a few basis points in return but pretty soon, the tax-aware strategy starts to have even lower returns than the tax agnostic strategy. 
The impact of dividend avoidance on after-tax returns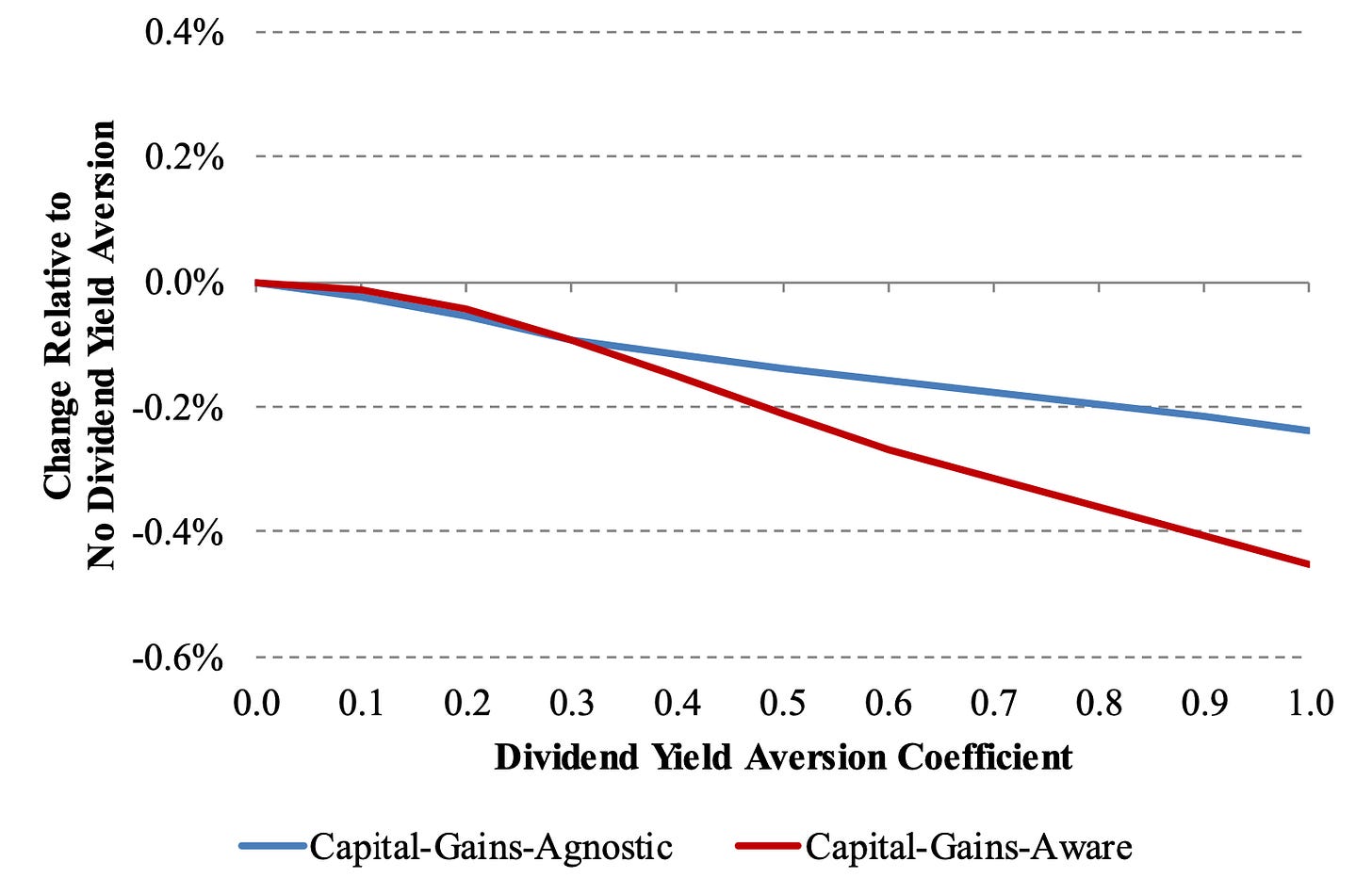 Source: Israel et al. (2019).
In my view, the lesson from this research is twofold. First, it shows that excluding stocks from the portfolio because of the tax implications of their dividends is a fool's errand. Second, excluding high yielding stocks from a tax-aware strategy in the name of tax reduction makes the performance of the strategy worse, not better.